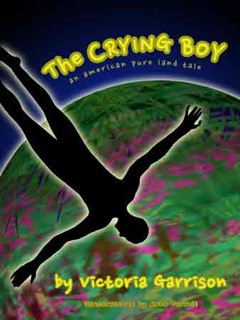 Just published!! (2017)
Victoria Garrison and I have collaborated on publishing her utopian, slightly sci-fi novel, The Crying Boy: An American Pure Land Tale. I've done five wonderful color illustrations and the cover for it.

It's available as a paperback at blurb.com, at Meow Wolf's House of Eternal Return in Santa Fe NM and Poor Richards in Colorago Springs CO. We hope to have a Kindle edition in the near future.

Here's a bit about it ~ As a young man, Jeremy suffers from a crying disorder. Things begin to shift when he meets a mysterious woman who presents him with a luminous ally. First she helps him deal with his best friend who is stealing from the family. Then, she invites Jeremy on an airplane flight that is doomed. Instead of being killed, Jeremy floats back to earth in the near future.