DARKROOM & ScrapCrapGlitter (Yoni4Joanie) are works in progress
to be shown at the Currents Festival in June at El Museo Cultural
in the Santa Fe Railyard.
The movies from DARK ROOM and Yoni-4-Joanie will show
at The David Richard Gallery in Santa Fe in a show entitled
BEYOND
a New Media and Video Presentation, June 2 - June 20, 2017
Opening Reception: Saturday, June 10, 5:00 - 7:00 PM
I'll be posting photos updating the progress of the projects as they develop.
Here are two movies showing the proposed work:
ScrapCrapGlitter (Yoni4Joanie) DARKROOM
Here are photos of the work in progress: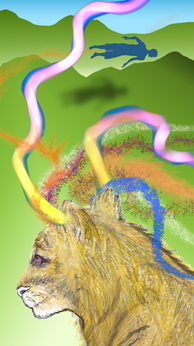 Neverland, CO, a modern fairytale for young adults of all ages, by Jean Selig, is now available at Poor Richard's Bookstore in Colorado Springs, CO and at MEOW WOLF's House of Eternal Return in Santa Fe, NM. Flying immigrants and Tinker Bell-lions! Tell your friends about it! I did the cover and graphics.